Elect Kaleb Wingate
District Court Judge
Kaleb Wingate is a Trial Attorney in the 30th Judicial District of North Carolina where he was born and raised.
Make A Donation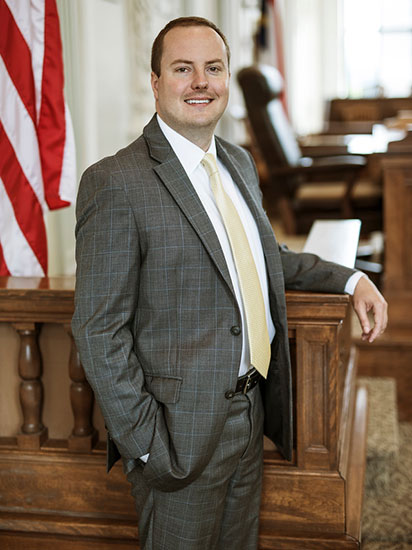 About Kaleb Wingate
I currently serve as a Trial Attorney in the 30th Judicial District of North Carolina where I was born and raised. I am extremely proud to be a product of Western North Carolina where I was taught important mountain values such as having faith in God, a strong work ethic, and respect for others.
After graduating from law school, I made the decision to return home in order to serve my community as an Assistant District Attorney for Elected District Attorney Ashley Hornsby Welch. I spent years traveling throughout all seven counties in the 30th Judicial District and have earned a reputation of being a hard working and modest prosecutor who treated everyone in the courtroom with dignity.
The final years of my tenure as an Assistant District Attorney were spent in Haywood County Superior Court where I prosecuted serious felonies such as drug trafficking, sexual assault, vehicular homicide, and bank robbery.
I had the opportunity to gain a vast amount of experience and knowledge of substantive and procedural law by trying hundreds of cases as a prosecutor. The time eventually came for me to try something new which is when I decided to open my own law firm in Waynesville. I now work primarily as a court-appointed lawyer where I protect the constitutional and statutory rights of individuals who cannot otherwise afford representation. I believe that the unique combination of mountain values and experience makes me the right choice for your next District Court Judge.
I strongly encourage you to research all of the candidates for this position by speaking with law enforcement officers, clerks of court, attorneys, and all court personnel about their interactions and observations. I am confident that you will hear that I believe in treating everyone with respect, working hard, and following the rule of law without bias or prejudice.
Contact Kaleb
Have questions for me? Call me at (828) 565-1046 or email me below.
Use this form to join my newsletter and keep up with the campaign.